Special Needs Child in Taipei, Free & Easy (First flying vacation)
My maid, JA was taking her 3rd home leave. As mentioned in my other page, it is not part of her contract so J has to bear the 15 days' absence, return air ticket and whatever fees her embassy imposed as OEC. Each time, JA will try to ask for one month's absence (trying her luck) and I have to remind her I need my job so I cannot be away for so long.
People who heard about my FDW who wants to go home yearly felt I'm too good to her, most said I stupid (你很苯) to allow her to go home each year …. putting my job at risk and go through all the inconveniences. One of them said her ex-maid was fired just before she completed her 2-year contract because employer cannot afford to let maid be away, her job performance and deadlines will be affected. Employer has a job that she wants to keep…. many FDWs refuse to understand this or realize that

we need our jobs

! Reminded JA, if I don't need a full-time job, why should I employ a FDW. One of JA's ex-employer, a Filipino family fired JA half a year before her 2-year contract matured. Reason: to save cost on home leave and the inconveniences.
Why do I let JA go home every year since there are so much inconveniences involved and my job at risk? There's nobody to cover my office duties and I have to do those dreadful housework and washing up .... worth being nice? I persuaded myself JA needed a break, especially she's taking care of a special needs ... a naughty and rebellious child so a break, totally
away from us will make her happier and treat my girl better
.
I hope by being nice, JA can learn to be appreciative, do a better job and stop testing my patience as well as tolerance level. Yes, I know most FDWs returned to work with a changed of behaviour and work attitude .... sad to say, applies to JA and my ex-maid. FDWs just felt they deserve the home leave (entitlement, employers owe then a break/holiday) and nothing wrong to show employers some attitude issue.... nobody is perfect.... a very good excuse indeed!
One month after I purchased an online Sin/Manila/Sin air ticket for JA to go home, one of my special needs friends posted on Facebook that she just took her special needs child to Taipei and that was their 5th trip to Taiwan. I private message her and decided that I should also take my girl on her first flying experience. We thought of going Hong Kong Disneyland but the language barrier (Cantonese) made us focus on Taipei (Mandarin and Hokkien). Browsed many F&E and package tours, most package tours were long and places don't suit us (not wheel friendly or too many breakable/antique). We just wanted to be away over the weekend, convenient locations so based on some F&E travellers' advice, we decided to try a F&E holiday. Lots of research need to be done .... browse online, speak to friends, visit Spore-Taiwan tourism office, etc. Whatsapp the main tour guide cum taxi driver one month in advance on where I can go that has plantation, near Taipei but he couldn't offer much choices. Those sightseeing he suggested were mostly tourist spots (see above). The driver we had was one of his team. I've also liaised with other
tour guide cum taxi drivers
but most leave venue to me .... solely up to me to do my 'homework'.... their job is to drive me to my desired destination. Tough job for me, first time visiting Taipei and trying out F&E!
Jetstar has fare promotion so for a return ticket that includes pre-selection of seat, 20 kg luggage, we paid about $250 x 3 pax, including taxes. My colleague travelled on Eva air, paid S$850 for one return ticket during non-peak (April 2015) - purchased five months in advance. Therefore the price I paid was cheap. One of my colleagues who planned to visit Taipei this Dec paid S$650
for one return ticket,
SQ promo fare. She sarcastically
commented 'don't know safe or not to fly on Jetstar'. Noticed that the earlier you book, the airfare may not be a good deal. I browsed Eva Air, during the period that I'm travelling, the airfare was S$550 per return ticket. Same booking experience for my maid, after I purchased her ticket, one month later, there were airline fare sales.
Read many blogs before deciding where to visit and stay... till I got confused instead of turning 'professional'. Initially we wanted to take my girl to Leofoo (六福村) but many reviewed it is quite a rundown place with lousy food and exorbitant price. Therefore, I google very hard (I'm serious) to find out which other amusement park that is nearby Taipei. I found 臺北市立兒童新樂園, opened last year so

everything is in good condition and new

. This amusement park became a 'must go' in our mind.
I continued to read blogs and planned my itinerary close to Taipei. I used google map (see above sample) and clicked 'taxi icon' to find out the time required to each destination. Many sightseeing were considered, example 野柳海洋世界 (OceanWorld), 野柳地質公園, Keelung (seafood), Beitou HotSpring (afraid water too hot and may get scalded). Maybe next time, I plan to go Taiwan, I can stay near Keelung to visit all these mentioned places.... save on travelling time. This map contains the most common tourist attractions, along the mrt route:
Travelling in May/June is really not advisable because the weather is hot. December is the coldest period in Taipei with temperature around 10 degree. Mountain areas will be colder, likely to hit minus degree. Feb is great, not too hot, not too cold.... great for strawberry picking if you are keen.
Many Sporeans stayed near Ximengding 西门盯. I prefer to stay near Taipei Main Station 捷运 (below is an underground shopping mall) because initially we wanted to try HSR (Rail 高铁). After booking hotel, decided it is a headache to take our luggages and stroller to board a 25 mins bus in order to get to HSR station.
If you plan to stay near Taipei Main Station, exit Y13 has escalator and lift. If you intend in New Stay Inn 2, which is 5 mins slow walk to Ningxia 宁夏 night market or 迪化老街/永乐市场 (local wet market), then remember to exit at Y13, not Y15 or Y17 because the stairs will 'kill' anybody with luggage and stroller. Hotel is located on the 6th floor so you need to climb a few steps before you reach its tiny lift. I was lazy to carry my 32 kg girl so I made her climb the stairs. She fell and had a big bruise on her thigh. Guess she was sleepy. We boarded taxi at 5am to Changi airport so by the time we reached our hotel, it was about 2.20pm (3pm is the official check-in time). This hotel was renovated last year. Exterior of hotel looks old. Below the hotel is private apartments and shops. For 3 nights, 2 Queen beds, we paid about S$400, including taxes.
Hotel is clean and the shower head is great. I don't fancy bathtub because I don't how others use it. To me, it is dirty and unhygienic. Room main door has no safety lock (latch) my girl could open the door and disappear, very dangerous, luckily I spotted her. We requested a quiet room via Agoda website but Reception gave us Room 601, next to the common lift ....the only lift to reach Reception and street. I stayed in room 601 for about an hour and decided the noise (talking) would be unbearable for 3 nights. Spoke to hotel, said I requested for a quiet room but was given a room with the highest traffic flow. Hotel gladly changed without any hassle or extra cost. We moved to level 10, the room was better than level 6 (toilet wasn't facing the bed) and the wifi was excellent every time we use. At level 6, wifi was poor, sometimes no signal (was trying in the room from 3pm to 4pm to reach hubby who went out awhile).
Below was my intended itinerary but we changed when we arrived!
Day 1 (Thursday) - Airport / Hotel / Ningxia night market
Day 2 (Friday) - Breakfast at 永乐市场 and walk along
迪化老街 (buy
伴手禮:
纸片肉干
‧江記華隆, at
迪化老街) / 台北儿童乐园 /
士林夜市
Shilin night market
Day 3 (Saturday) - meet taxi cum tour guide (NTD3300) /MaoKong Gondola 猫空缆车 /
十分天灯 /
黄金瀑布 Golden waterfall / 五分浦 Wufen wholesale / 饶河 Raohe
night market
Day 4 (Sunday) - Check out / meet taxi cum tour guide
(NTD3300)
/ Ximengding / 翔豪农场 Farm / Taoyuan Airport
Actual Day 1
Changi Airport - Did web check-in one day in advance, produced our printed boarding passes and check-in our luggages. Changi airport arranged a wheelchair and a personnel to bring us to departure hall. Flight arrived Taoyuan airport at about 12 noon. Taoyuan airport has standby a
wheelchair and a personnel to take us to arrival hall the moment we stepped out of the plane. We collected our luggage and stroller without much delay.
Went Terminal 1 food court to have lunch. Food price range NTD 150-260.
P
urchased 5 days Taiwan SIM card (booth located just outside Terminal 1) with unlimited data and NTD 50 call value @NTD 300 (about S$13). Hubby and I shared data usage. If you're too far apart, this sharing doesn't work. Quite blur, during my first 3 days, I should use local data to let my girl watch Youtube. Only realised on the last day .... what a waste!
Note to F&E traveller, if you're tapping on TWN wifi (in malls, tourist attraction), you need a local SIM card.
Hotel
-
New Stay Inn 2. Check-in without any hassle. Wasn't requested to place cash deposit or produce my credit card as guarantee.
Ningxia night market -
胡须张鲁肉饭/苦瓜汤/骨髓汤 Our dine-in dinner there was so-so. Restaurant has toilet so made me felt 'safe'.
I have a weak tummy so I stopped eating vegetables 2 days before trip. Also taking prebiotics one month in advance but still not quite daring to eat street food on the spot. I packed some F&B (my snack) to eat in the hotel. Worry that I would run for toilets so I tried mostly cooked and hot stuff. Tried grilled oysters (gummy), oyster
omelet (don't like it so starchy), 爱玉冰 (lucky my tummy could tolerate, looks like their water quite clean),
臭豆腐
(my girl likes the pickles, toufu not smelly)
,
cut fruits (hubby ate, I didn't), 芒果雪花冰
(hubby ate),
etc.
Day 2 (Friday)
永乐市场/
迪化老街
. From hotel to
迪化老街, it was about 5mins walk.
We arrived at about 8.30am, most of the shops were not opened. Those breakfast that were recommended by local bloggers were mostly not yet open for business.
Since the shops were not opened, I didn't want to spend 20mins walking down an empty street just to buy
伴手禮:
纸片肉干 -
江記華隆 so we packed breakfast to eat in our hotel room. Was disappointed that I won't be having 'paper-like bakkwa.
If I knew Taiwanese don't wake up early for business in 'tourist spots', I would have planned Amusement Park as first stop .... avoiding the hot sun and have the fun that we intended for my girl. I hope if there's a next time, I could take my girl to this Taipei amusement park. By that time, all the facilities may be worn out like Leofoo ... no maintenance and up-keeping.
迪化老街
is near our hotel while Amusement Park is near Shilin so it is actually smoother, no unnecessary detour to go as per my plan. But based on unfriendly operating hours, we can changed venue to suit us .... if I knew earlier. Before we got off the plane, Jetstar announced the hot weather in Taipei, could have avoided
迪化老街.... hope this blog could help readers plan a more beneficial/worthwhile trip
. I am sure you can have a better experience .... more fruitful than mine.
Sigh ....a
te
鲁肉饭/
肉燥饭
again, not much morning choices.... miss those easily accessible and wide Spore food variety. There's another 糕 (same stall) which I thought was kueh, turned out it was an upgraded version of
鲁肉饭 (felt better than
胡须张)
.... added peanuts, pork floss and pickles. It is located on the right alley of
清粥小菜.
Before I packed rice, I have already bought 3 servings of fish beehoon soup .... over purchased, couldn't finish, m
y girl refused to eat
! Not nice, can't see any fish and really bland. If you like fish beehoon, visit
永樂台南土魠魚羹 but don't go too early, 右邊柱子上貼著蕭敬騰來吃過的照片.
清粥小菜 -
Hubby had this for 2 breakfast, not meaty stuff, plenty vegetable choices for persons who like light porridge. He couldn't have this on his last day because it wasn't open.
After we finished breakfast, we found out the temperature was 32 degree. We thought heading Taipei Main Station for some aircon shopping cum lunch then move to 台北儿童乐园, arrive around 3pm (closes at 5pm) would be a good idea. We like Friday or a weekday to avoid crowd. When there's a crowd, we need to queue longer.
We reached the underground mall around 10.30am, about 15 mins walk from our Hotel. Along the way, I bought an umbrella that cost only NTD99 but handle was bent when we check in together with our luggage. I tied the umbrella to the stroller but Taoyuan airport crew said better to separate. Most of the shops weren't open, I am surprised it happened to a place that has high traffic volume. The first shop that caught our attention was wallets and bags. Bought 2 handphone pouches and a wallet at NTD 100 each (S$4.35). I know some Spore morning markets or Bugis street selling wallets at 3 for $10 (cheaper) but the variety isn't much.
Bought clothing, pants, waist pouches, bags, shoes, Burma jade (NTD 100, hope they are not glass) .... and a Mi 2 casing that is too small for my Redmi 2, didn't bring mine to Taipei. Wonder why can't fit since it is labelled as Mi2.
If you are not a branded person, I believe you would happily
shop
like me.... didn't even try to bargain. I was happy to buy waist pouch @NTD 100 that could fit my tablet. In Spore, I had to use sling bag which I don't like. I wasn't the only one who bought a lot, hubby did too .... just that not as much as me.
Along the mall, I exited to USquare, near Y5 (it is like any Orchard mall) for lunch while waiting for Hubby to 'park' my purchases in hotel so that we could have fun at the amusement park. By the time he met us, it was 2pm. He was perspiring and declared it was too hot to visit outdoor
amusement park. Disappointed but the weather really didn't delight me or my girl. Thus, after lunch, we continued round 2 shopping which included buying what I yearned:
纸片杏仁肉干 @NTD200 each. I tried the sample, not bad. Have not tried other brand but this
快车
brand tasted ok. Hubby bought a box of 太阳饼. It tasted like chips, crispy, not oily. I opened one packet and ate 10 pieces but felt
still
not enough. Noticed all the 3 night markets that I visited, there are stalls selling such paper-type bakkwa. I didn't try nor buy. Below my hotel, there was a store selling
纸片肉干. Don't know why I didn't try it.
When I got home, happily shared I bought
纸片肉干, my friend said 香味 selling.... went to take a look, only 原味杏仁. Next time if I crave, can go and try how it tastes like.
We didn't manage to comb the whole underground area .... w
e placed all our round 2 purchases in the hotel before heading 'weightless' (no stroller) to
士林夜市 Shilin night market. Hubby's friend picked up and bought us to some stalls that he felt good. We spent around one hour there without combing the whole
Shilin
area or visited the underground food court. Don't ask me why, I also don't know why the time 'allocated' was so short. Tried
阿宗面线, dine in then packed
another
bowl to eat in the hotel. Girl liked this. Guess she was really hungry because by the time we reached, it was almost 8pm. My girl has been really picky on food, skipped breakfast, selective on food for lunch.... thus, she was famished.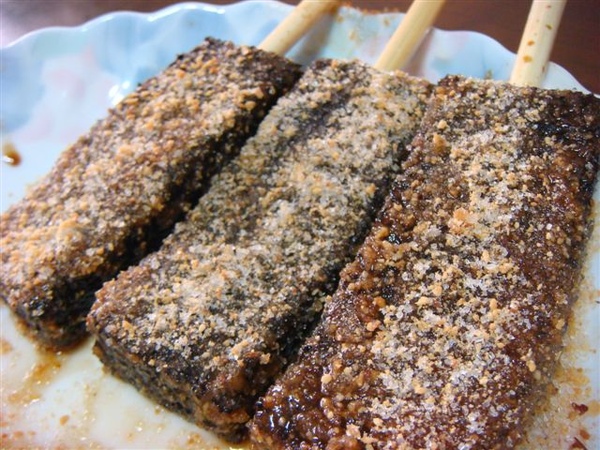 猪血糕 (slight chewy, my girl loves it). No bloody taste. You won't know it is made of pig blood.
胡椒饼 (peppery, dry and too meaty for me)
生煎包 (both meat and veg not bad)
Packed 爱玉冰 (tasted so-so) and cut fruits. Bought a pack of preserved maroon colour plum, didn't know, thought it was a new kind of fresh fruit.... placed with the cut fruits and cost me NTD40 ... crunchy but too chemical taste. I didn't buy those fruits buy weight, chose only those with price to avoid being carrot chop.
Wanted to try 肉卷 but hubby's friend said no good.
Just before we exited
士林夜市, hubby bought a new cover for his Samsung note... half price of what he previously bought in Spore.
Day 3 (Saturday)
Hubby went out to buy breakfast. I had 小龙包. Bought the 'famous' 永和豆浆, doesn't look tempting so didn't try, the beancurd was all smashed, looked so watery. Was told not all
永和豆浆
are authentic and nice. This shop is located opposite our hotel.
Daughter had a veg bao which she decided to ate at Maokong.
Wanted to try 鸭舌 (braised food) at 小春园 (below our hotel) .... forgot, don't know why I didn't buy on Day 3 when I didn't had 'enough' night market delicacy.
Met taxi cum tour guide at 8am but he came late. Have specifically indicated via whatsapp I wanted to reach Maokong early to avoid the scorching sun and crowd. Driver moaned we were too early, most trip starts from 9am because some drivers live far from Taipei central (where we stayed), may need to wake up at 5am in order to fetch early birds like us ..... blah blah. He discourage early birds. Said if we're used to wake up early, sleep longer during this vacation.
Headed to MaoKong Gondola 猫空缆车. One way ticket cost only NTD50, cheaper than our Spore cable car. I have b
atophobia so was quite worried/paranoid. The ride was great, smooth, better and not as scary as Genting Gondola. If you purchase a 2-way ticket, it cost NTD120. If you buy separate, it is
NTD50 x 2 trips. We were allowed to push our stroller into the crystal cabin and the whole cabin belongs to just the 3 of us. The usual capacity of a cabin is 5 pax. As we went early, I saw one man having the normal cabin all to himself.... shiok!
灯
-
Write your wishes with brush 毛笔. Each colour represents one wish. 4 colours could be Career, Study, Fortune and Health. There are other colour that represent marriage, love 桃花, etc.
Single colour cost NTD150. 4 colours costs NTD200. Colour is just for the merchant to make more money. If you buy a single colour lantern and write plenty of wishes, I doubt merchant dare to say your wishes won't be granted.... on your face. Lantern is let off before the train passby. There's a signage in this shop indicating you cannot use their toilet to do big business .... so urgent nature call how? The public toilet is at the train station, about 7 - 10 mins walk from
天
灯 area.
I had braised beef rice (lunch) in one of the western cafe. The service staff (youngsters) seemed clueless and appeared like first day of work ... this don't know, that don't know. Most ridiculous was I passed cashier NTD500 yet she gave me NTD60 instead of a change of NTD200. My food and rose tea cost NTD300 yet she charged me NTD340. Gave me NTD60 and said she already handed me a NTD100 note = NTD160 change. Food wasn't great but that was the only aircon cafe. Actually we wanted to eat noodle but the shop we wanted was so packed, no seat.
黄金瀑布 Golden waterfall - merely drove up, passby, had an overview in the car and drove off. Nothing fantastic, located along the road to Jiufen. The rocks were 'coloured' by chemical done by previous gold diggers. Didn't want to go upwards to 九分 because Jiufen waterfall is not wheel friendly, a lot of nature trekking.
The view is better but not worth the 'trouble'.
五分浦 Wufen wholesale - lots of ladies clothings. You can buy those hanging on the rack, no need to buy in bulk. Hubby went to nearby mrt station hoping to find some food for our chosey girl but only snacks were available. I have already bought a lot at Taipei underground mall and didn't bring lots of NTD so although there were clothings to buy, I resisted. Taxi driver claimed his other passengers
spent
not more than 3 hours
in
五分浦 +
饶河
night market. Well, he has never stepped into
五分浦 ... his assumption was wrong. I should have text him to delay 1 hour so that I could have more time in R
aohe
night market, didn't manage to tour the whole area. We arrived at 5pm. As the night approaches, more stalls opened and some 'new found food choice' was popping up. Too bad, was in a rush. We dine in at a so-so restaurant because most street F&B were not ready for business. Taxi driver claimed night market ready for business around 4+ yet it wasn't true. That showed how inefficient and non-informative. He can drive you around but he hasn't visit any of the places ... so don't trust his words/views.
On the way out, I packed sticky bamboo rice and green bean dessert (tau suan with dried longan, not cheap, cost more than any proper food such as
肉燥饭 or bamboo rice
). Wanted to pack other food that I've not tried before but really lack of time and hubby kept chasing me. He disliked the crowd that was building up and 'blocking' his way. We left at 6.30pm .... too early to leave for a night market. Back to hotel around 7pm. Raohe is double of Ningxia. Shilin is bigger than Raohe. Saw online review Raohe is the best night market out of these 3.
Day 4 (Sunday)
Check out from hotel. I made 2 local calls (nobody answered, just voice mail) to hubby's mobile on Day 1 which cost NTD36. 8.30am met taxi driver downstairs, he came on time. Instead of going Ximengding, we went Nanmen 南门市场. Driver said Ximengding doesn't open so early, 12pm would be ideal, similar to
五分浦
but we 'insisted' to be early birds (didn't listen to what he said yesterday). 8.30am to us is just nice but in Taipei, there's nothing much to see or shop.... oh, nothing much to eat too. Said no need to wake up so early... blah blah. Went for breakfast near Longshan temple. Tried 大肠米粉 beehoon intestine (not bad), 铁板面 (girl's mushroom spaghetti, she finished all so I guess not bad) 萝卜糕, plain, ate one piece, threw 3 pieces. Drink a cup of 杏仁茶 @NTD50. Driver said it is unusual that I could fancy such drink. Bought many packs of dried fruit: pomelo (pic 1), mango (pic 2), pink guava, mini 金吉 (tangerine) and pineapple (pic 3). Felt like buying 金华火腿 but short of cash .... everything cash basis.
Went to a weekend florist, a good suggestion from driver and bought 4 small pots of plants for only NTD100. Hubby said I may not be able to get pass customs. I said I'd wash off the soil and discard the pots. The flowers and fruit 幼苗were really cheap. Felt we won't spend much time so my girl was walking.... tired, that place was huge.
翔豪农场 Farm - it is a farm that is similar to those in Kranji/Choa Chu Kang, eg Bollywood.
This is the driver's first time to visit farms located in 观音乡 (near Taoyuan airport).
Driver was saying I shouldn't trust blog review, said those bloggers are paid to write. I told him I am not going to a commercialised farm that is 'paid to write', it is a simple unpolished farm and don't expect much there. Driver said no advertisement how to survive .... he kept commenting and hubby added fuel into the conversation which made me frustrated. I said if you don't believe there's such a farm, reach venue then we can drive off to elsewhere. As we didn't reserve 3 days in advance, farm owner couldn't prepare any vegetarian food for us. The red dragon fruits are not in season to bloom. Passion fruit will need another month to ripen. Farm owner took us walk around and did good introduction on his dragon fruit, 爱玉 tree, 洛神 plants, explain difference between 睡莲 and
莲
花 ... no fee for his service nor entrance fee.
After
翔豪农场, we went
青林
农场
for lunch. It was around 2pm so it was a late lunch. Asked driver whether we should eat nearby because I saw some eateries. He decided on
青林
农场.
Entrance fee can be 'redeemed' by eating at the restaurant.
青林农场: 家禽和宠物/花田迷宮/向日葵/儿童游戏 / 踩高跷 / tug of war / 餐馆.
If I can pay by credit card would be better .... short of cash.
If you want to visit a real plantation (mostly mountain areas), go to Yilan 宜兰. Driver said via expressway, from Taipei to Yilan is about 45 mins. He has driven passengers to Yilan plantation. Claimed he had one 'crazy family' who gave him 8 plantations to visit in a day. After completing 3, they gave up due lots of time wasted to drive from point A to point B, etc.... from one point to another, the journey is 1 to 1.5 hours.
A proper meal that includes main, soup and coffee/tea or mini steamboat
cost
NTD 320.... food served looked appetizing. Actually if this price is in Spore, I am ok because can always draw money from ATM or use credit card to pay. Wanted to try the mini steamboat but worry about my daughter's itchy hands. Hubby took vegetarian set
and driver
had baked rice set meal. I ordered a pizza (NTD 180) with Tangerine tea....
short of NTD.
Daughter had a slice of cake with 洛神茶
(NTD 180)
- add sugar becomes Ribena! I thought I don't need to pay for driver's lunch but this driver super thick skinned, hinted yet he didn't minus off what he ate from the taxi fee! We were NTD320 short so our dinner, we were left with only NTD 600 (S$30). Frankly speaking, this is like tipping a driver cum tour guide who is not to my satisfaction. When you hire a local taxi driver, it is not a must to give tips ... online bloggers and my colleague said no need to give. The advantage of having a taxi driver cum tour guide is that we could dump our luggages and stuff in a 'movable storage'... dissuaded myself don't be annoyed, don't be angry (paid NTD3300+320 = S$160 on my last day), cheer up, 看开点!
4.15pm arrived Taoyuan airport, blur me got the boarding time mixed up, we were 2 hrs before flight time + 2 hours extra = 4 hours earlier. Decided to go to the toilet to clean my plants. Initially wanted a 'private room' and selected a handicap toilet but just moments after I wheeled my girl in, I heard a man asking 'anybody in' and knockings.... irritating. When I got out, I saw a male cleaner walked in ... desperate for a handicap toilet or there's cctv so he saw me washing my plants?? Should I say luckily I didn't pee in that handicap toilet? I met hubby, 'deposited my girl' and went to a common toilet ..... with people watching what I was doing. Since I was being closely monitored, I had to ensure I cleaned well. I had a plastic bag to dispose the soil and another to wash. The cleaned plants were placed in an empty cut mineral water bottle. If you intend to buy plants, make sure there are no soil or leave behind a dirty toilet basin. Plenty of thick
hand
tissue for you to wipe your 'mess'.
Hubby decided not to eat so I was the only one eating dinner. Said he had a great lunch with plenty of salad.... I know he's worried we were short of cash. Can't remember why I didn't buy dinner for my girl.... could be my 'blur' mind still in action. Finally, we could check-in. There were quite a lot of people in the queue so it was quite a wait. At the counter, hubby check-in his luggages successfully. The 7kg hand luggage almost got us into trouble. For convenience, we bought a big 'plastic' ahma kind of zip bag just to put all the goodies in. Airport crew said we can't combine so we have to take out
our goodies/merchandise
s for them to tag all as 'hand carry'. Assured them, the bag is just for carrying all the loose stuff, we would open the bag and place our
goodies/merchandise
s
in top compartment nicely ... so no need to worry our bag is too big or can't fit. By the way, the weight was only 10.5 kg, lesser than what we we were allowed to carry ie 7 kg x 3 passengers. Noticed handbag, waist pouch and small backpack were not weighed. If we check in our goodies, it cost an additional NTD1000+.... no money to spare. While in the queue, saw many travellers carrying cartons, one of them I could read was 太阳饼. One of them opened her luggage showing a few cup noodles.... wah!
Airport crew walked us to the boarding hall, my girl was in wheelchair again. I used the remaining cash to buy 2 slices of cake and sandwiches to eat on the plane. During check in, we had to pour away or discard all water bottles so we bought drinks from the boarding hall vending machine with all our coins (NTD 20-30 per item). Plane was delayed for 30 mins. If I knew earlier, I could have taken my girl upstairs (within departure hall, less than 5 mins walk only) for proper dinner instead of buying cakes.
Jetstar crew told us to be the last to get off the plane because they needed time to arrange a wheelchair. Some passengers just took their own sweet time. The passengers are 'flowing' like part 1, part 2, part 3 where there was an obvious blank before the next batch of passengers walked pass us. We were seated at row 3, very near to exit yet the last to get off. When we arrived in Taoyuan, the wheelchair was already waiting for us so we need not be the last to get off the plane.
When we reached Changi airport taxi stand, the snake queue was scary, thought we need to wait really long, luckily we were able to take the priority queue so by the time we reach home, shower, settled everything, we were in bed at 2.45am.
I changed S$1020 into NTD. Left with 14 NTD (less than 1 dollar).
Total spent: $700 airfare, $400 accommodation, $1020 F&B + transport + shopping + taxi/tour guide
The last time I flew was 13 years ago.... so sad, others go for vacation at least once a year whereas I can't afford. This trip, spent about S$2100 and made my pocket bleed. Need to start saving and hope to go for another short vacation, somewhere
not too far,
maybe Hong Kong Ocean Park or Bangkok .... when J goes home next year or the year later.
If you happened to read my blog, cut and paste the place that interest you, google for more details, eg location and detailed blogger's pictures. From one blog, you might be enlightened by the venue and led you to somewhere of your interest by another blogger. If you can read Chinese, it will be better because you can read local blogs.
We are a family who prefers more vegetables so my food review may not suit a meaty person.
These are some top score tourist must buy, mostly available in Spore ... different brands: